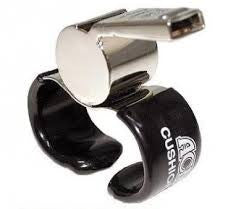 Acme Thunderer Nickel Plated Finger Grip Whistle Model 477.58.5
Our most popular whistle, the Acme 477.58.5 Hockey Referee Whistle has a tapered mouthpiece. This is by far the lowest price you will find for this whistle.  The favourite for years among hockey officials with its familiar deep tone. Rubberized finger grips and plastic mouth piece cover included. Order an extra to keep in your bag. All good officials carry a spare. Ordering with other products at the same time saves shipping costs.  These whistles can be personalized with engraving (see Presentation Whistle category below). Discounted pricing for 12 or more (see Bulk Discount category).

For health reasons, whistles can not be returned or exchanged.
---
We Also Recommend
---